Meet Rob, he's our international sales here at Batch.
As you've probably seen already, the pricing at Batch is really transparent.
You don't need to create an account, you don't need to speak to a Salesperson.
Our price list is entirely accessible from the address batch.com slash pricing.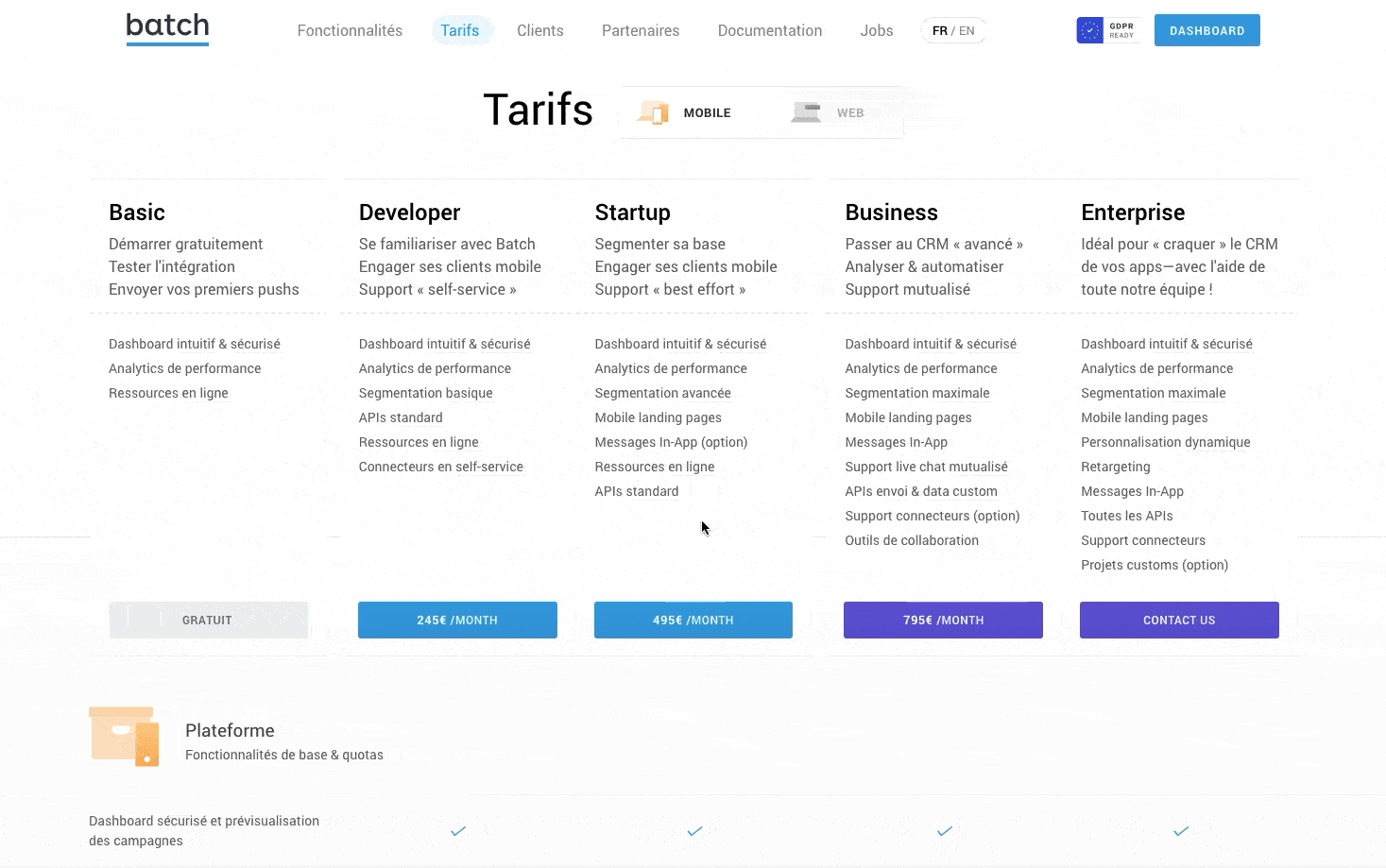 You'll see that our mobile offer is broken down into 5 different plans: Basic, Developer, Startup, Business and Enterprise.
The Basic Plan !
This is perfect for getting you up and running for free!
The plan gives you access to our dashboard and online resources. You can fully integrate our SDK into your app and send your first test campaigns.
It gives you a single account access on a self serve basis.
Next, our Developer Plan - this starts from just 245 euros per month!
The plan is ideally suited to allow you to test Batch's basic CRM features.
In particular, it gives you access to smart segments, native targeting, A/B testing and our transactional API.
It also allows you to send pushes at up to 50 000 per minute.
It includes a single account access on a self serve basis, similar to the Basic plan.
After this, you have the Startup plan - from 495 euros per month!
This plan is perfect for teams who are growing, providing you with 3 accounts instead of just the one. But more importantly it allows you to leverage our "Best Efforts" support service. In other words, providing you with full access to our Customer Success and Technical support staff, the only difference with higher plans is that the response time is not guaranteed: we'll get back to you as soon as we can; within the hour, later that afternoon or later that week - but we will always get back to you!
It's also a plan that allows you to develop further in your CRM capabilities with the possibility to put in place an advanced tagging plan as well as to send a higher volume of pushes at 100 000 per minute.
Then we come to our Business Plan - this starts from 795 euros per month!
The key strength of this plan is that it gives you access to our CRM technology for in-app messaging.
This service allows you to display rich messages within your application at every stage of the user experience, with the same targeting capabilities that you have with our Push Notification service.
This is perfect for more mature CRM teams, offering up to 5 accounts for your company as well as aggregated specialist support for your marketing and technical needs. You'll have direct access to our team of product specialists who will do everything they can to get back to you within just 3 minutes.
Lastly, this plan provides advanced CRM features such as event tracking, custom audience targeting and the management of your push campaigns at 1 million pushes per minute.
This brings us to our Enterprise Plan!
Right to the serious business. This plan is entirely adaptive, and conceived to address the most demanding CRM needs, we can host a much larger team with distributed resources across national boundaries.
Who has it been designed for specifically? Publicly listed companies, high volume international e-commerce retailers, media organisations, banks, airlines, as well as rapid growth start-ups that already have several hundred employees.
This plan provides access to the full suite of Batch's feature set; not only the current ones but also roadmapped services, as each new functionality that the Batch team develops is first made available to the privileged Enterprise plan partners.
From a client support perspective, again, this is a fully dedicated service, perfectly adapted to your business and marketing needs, with a nominated Account Manager who will accompany you through each of your projects and be sensitive to your business critical constraints.
Lastly, it will allow you deploy connectors to integrate Batch with your other MarTech tools and platforms.